Three Ways To Shop For An Engagement Ring
FIVE-MINUTE READ
At Bremer Jewelry, there are three ways to shop for your engagement ring. Wait, more than one? You probably have so many questions about the engagement ring, you didn't know you had to think about multiple ways to shop for the ring. 
How much research should I do before going to a store?
Or do I just go in blind and act like I know what to do?
Would it be easier to just pick the whole thing out online?
I really don't feel good about walking into a jewelry store.
Should I take my friend?
Should I bring my mom?
Should we shop for the ring together or does it need to be a surprise?
Do jewelry stores even do financing anymore?
I have no idea what I am looking for.
I have no idea what anything costs.
All the diamonds on the internet look the same, why are some so cheap and others so expensive?
How do I know its a real diamond?
What color metal do I pick?
Wait, I'm supposed to know a finger size?
What do you mean special order?
Why can't I have this ring right here in the case?
Should I customize the ring or leave it like it is?
Doesn't "custom" just mean more expensive?
And those are just SOME of the questions we know are going through your mind right now. If you've landed here, that means you are interested in learning more about engagement rings. Whether you are the proposer or the proposee, you've landed in the right place. We may not be able to answer ALL those questions in this post, but we'll at least walk you through three different methods of finding or creating the engagement ring that fits your style and budget. The family at Bremer Jewelry offers you three types of engagement rings: ready-to-go, semi-customized, and custom.
Ready-To-Go Diamond Engagement Rings
We define "ready-to-go" as a diamond engagement ring that you could leave the store with the same minute you pay for it. This option is what most assume is the ONLY option upon visiting a jewelry store. You walk in, look in the cases, pick out a ring, and walk out with it. And you know what? Sometimes, that's exactly what the experience is like. But most of the time, there's a bit more to it than that. Both Bremer Jewelry locations offer a unique variety of ready-to-go diamond engagement rings ranging in style, diamond size, and price. These rings are crafted from high-quality precious metals and dazzling with diamonds. Most of our ready-to-go rings are a middle-of-the-road-finger-size 7, but can be easily sized by our on-site goldsmiths for free. Sometimes, we can make it happen that very same day. Other times, our schedule might demand that we need a couple days. About 1 in every 5 engagement ring customers end up choosing a ready-to-go engagement ring. These rings are perfect for spontaneously romantic proposals, budget-conscious brides, Henri Daussi fans, or those who simply fell in love with a ready-to-go ring style.
Semi-Customizable Engagement Rings
These rings are (by far) our most popular choice and have been for years. When you walk into Bremer Jewelry in either Peoria or Bloomington, you will find the bridal cases full of what we call samples or live models. These faux rings are crafted from silver and crystals to mimic what the real ring will look like. Showcasing these live models allows us to carry exponentially more styles. It also lowers our security risk. Lastly, sample rings allow us to take inspiration from the design, but make it your own with as many modifications and personalizations as you want! Let's say you REALLY like this Noam Carver engagement ring.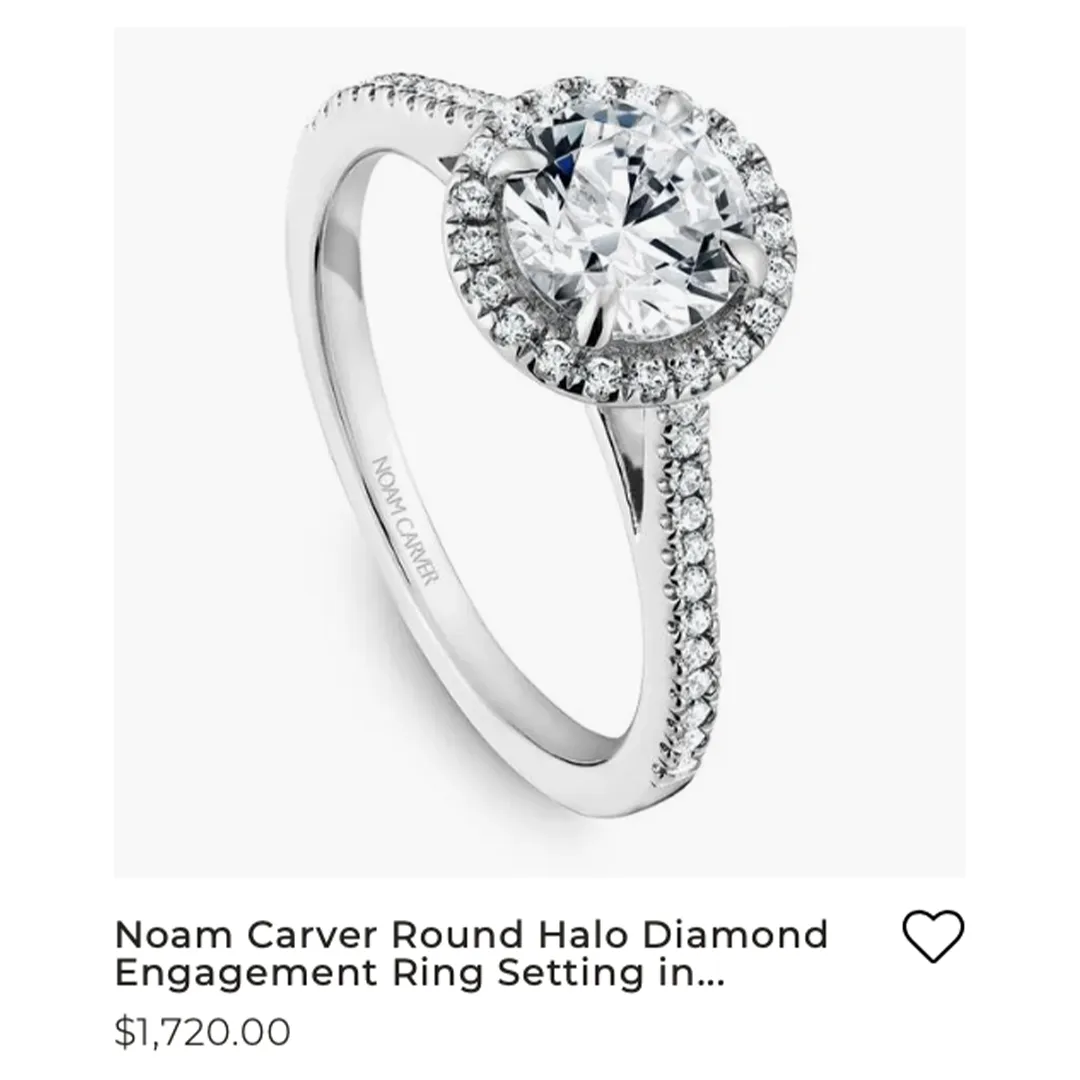 The live model is shown: in white gold, with a round one-carat diamond, and finger size 7. You like the ring, but want it in: rose gold, with an half-carat oval-shaped diamond, in a finger size 8.25. You also maybe want the diamonds to go farther down the sides. Oh, and it would be really cool if we could incorporate a hidden blue sapphire to represent the month that you met. Sounds perfect? Then let's do it! Those customizations are just some of the personal tweaks you can make to our collection of semi-customizable engagement rings. That's also why you won't see these rings for sale on our website. There are SO many customizations available, it would be nearly impossible to showcase them all: finger size, metal color, metal type, metal finish, head size, head shape, head style, side diamond quality, side diamond shape, side diamond size, shoulder length, colored gemstones, number of prongs, prong style, underhalo, profile texture, hand engraving, etc. Don't forget! We are a small, family-owned jewelry store who manually adds every item to our website. Your best bet? Visit our jewelry consultants who can help you see, touch, and compare all the beautiful rings we have to offer.
Custom Designed and Hand Fabricated Engagement Rings
Now, this section is where we might geek out a little bit. There aren't many goldsmiths left in the area. We are so proud to employ four bench jewelers that repair, restore, and create fine jewelry right in our stores. We are also proud that our jewelry consultants have such a passion for handcrafted jewelry designs. They'll help you design the ring of your dreams. Whether it's a collection of images of Pinterest, a mismatched pile of heirloom jewelry, or a simple vision… we can work together to design the exact ring you have your heart set on. Check out some of the hand-carved, hand-fabricated, custom created diamond (and gemstone) engagement rings we've created in the past year.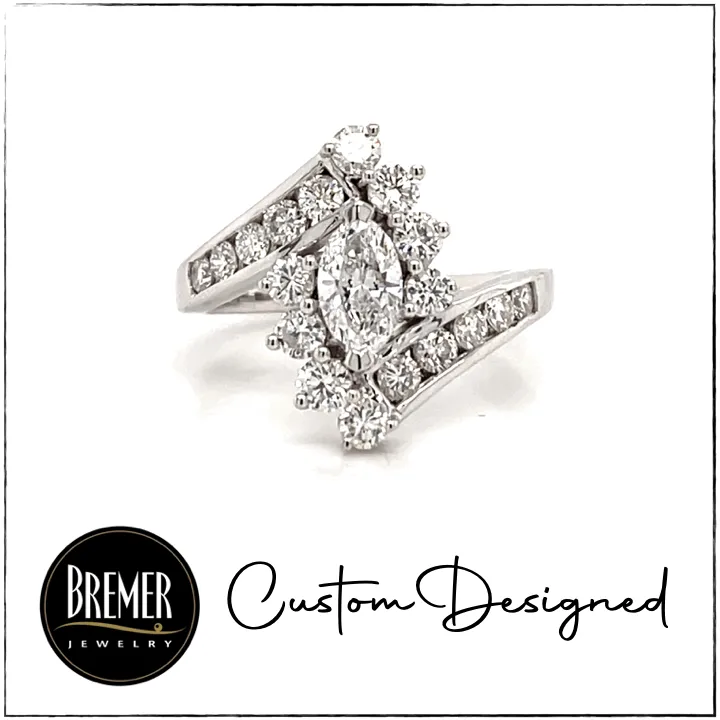 Like we said… if you can dream it, we can make it. How does it work? First, get in contact with us. You can walk into our stores, start a message in the bottom left hand corner of the website, or send us a custom project request. Our consultants will get back to you as soon as possible. Then, we start dreaming together. We'll discover aspects you do and don't like from other rings in the store. Maybe even consider some family jewelry pieces you have, but aren't wearing. Then, we will discuss design, materials, pricing, and timeline. Our jewelers may even carve a wax molding for you to approve. Then right there in our store, our goldsmiths will fabricate your ring! We always think it's nice to be able to tell people that your engagement ring was "made in Peoria" or "made in Bloomington". Those are the three ways that you can find your dream engagement ring at Bremer Jewelry  in Peoria and Bremer Jewelry in Bloomington. And ok so... we maaaaaaaaaaay not have answered all those questions but we promise you one thing. Visit our store and get to know our family. We'll be sure to knock each one of your questions out one by one. Our family ensures an outstanding engagement ring buying experience full of comfort and confidence.