Everything You Need To Know About Three-Stone Diamond Engagement Rings
Do you know what the third month of the year calls for? DIAMOND ENGAGEMENT RINGS!
But why three-stone, why so special? Three-stone rings are a sentimental choice to possibly represent:
your past, present and future together
your family of three
your three children
the Holy Trinity
the sentiment of the Irish Claddagh ring (friendship, loyalty, and love)
your three decades together
or something special to only you
Plus, it's three diamonds instead of one = MORE SPARKLE!
We have lots of #realbremerbrides that have opted for a three-stone diamond engagement ring but our most passionate Disney-loving, Bremer-supporting, three-stone bride is Ashley. Her boyfriend
(at the time)
had given her a three-stone promise rings glwistening with amethysts and so when it came time to pop the question, he know he wanted to replicate the ring but with diamonds this time!
Check this out...
one of the diamonds came from Ryan's family, one of the diamonds came from Ashley's family, and they selected the third one together from the selection at Bremer. Now married, Ashley LOVES telling people all about her custom made Bremer ring!
Photo cred: Pam Cooley Photography
Back to business... Below, we are going to cover: how to shop for a three-stone ring, all the options available to you during the process, halos, fancy shaped diamonds, ratios, pricing, and upgrading.
Let's have at it!
Ready-To-Go RIngs vs. Customization
Here at Bremer, we are constantly
IN LOVE
with our ever-changing collection of ready-to-go rings. But one item you will rarely find in that collection? A glistening, glimmering three-stone diamond engagement ring
(except for that one time)
!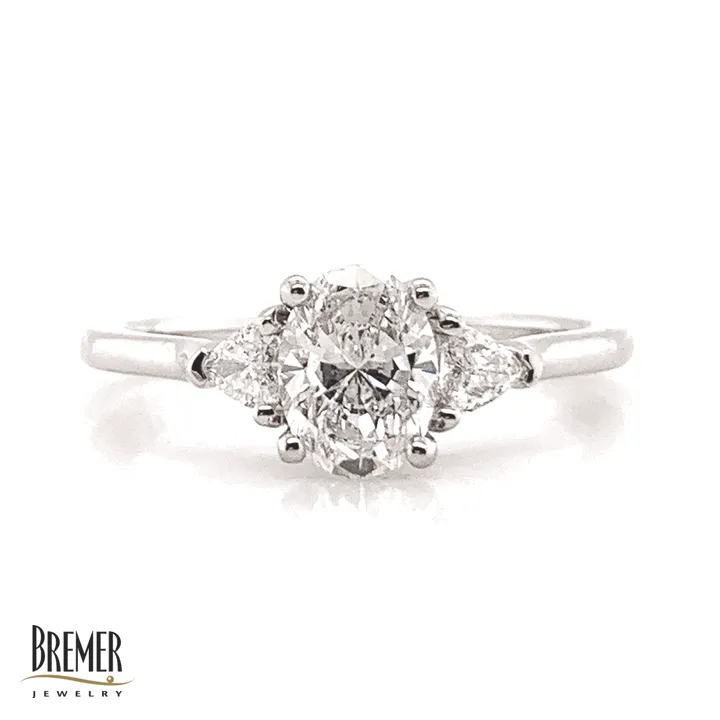 #realbremerbride ring: a customized three-stone diamond engagement ring featuring an oval-shaped diamond center with a trilliant-cut diamond oneither side crafted from 14k white gold.
Why is that?
There are
SO MANY
factors that go into a three-stone diamond engagement ring, we have found it's better for the entire process to be
customized
and
personalized
for the bride-to-be. What can you customize?
Just about everything
! From the size and shape of the center diamond, to the size and shape of the side diamonds, the metal color, the ring style, to halo or not to halo, adding in gemstones, and so much more. Below we are going to take you through the elements of a three-stone diamond engagement ring and how you can make it 100% yours.
To Halo or Not To Halo...
Three-stone ring designs tend to take up a lot of space on the finger. Think about this: a tall structure that needs to support
one
giant boulder. Now think about that same structure and what it would need in order to securely support
two additional
boulders on either side. What would you need? More structure and support which in the jewelry world means MORE METAL. Adding three halos into the mix will certainly add more sparkle to the look of the ring, but it will also add more volume to the way it feels on your hand. Not good or bad…
just different!
 You can also get a halo-like look with just a frame of textured metal like on the two left-hand side rings. Or get super sparkly with a bunch of little diamonds like the two rings on the right. And don't forget about adding those wedding bands to the stack later on. Check out some of these A.Jaffe and Simon G. designs that boast gorgeous, glimmering halos around all three diamonds.
You can also achieve a three-stone LOOK by sneaking in some different shaped diamonds into an existing halo like this fun, new design below:
Which Shapes?
Who says your three-stone diamond ring has to be all round diamonds? What if you love oval-shaped diamonds? Or prefer clean lines and hard angles? We have good news for you! With two different diamond shapes and dozens of ring designs, the possibilities are
endless
(ok well not endless, but if you just stick with ONE center carat weight and ONE side-stone size and introduce the top 9 diamond shapes, that's still 81 combinations!)
Our advice? Pick your center diamond shape
first
, the star of the show
(and also most of the ring budget)
. Then, select your mounting style which includes side-diamond shape and size.
Below are some really neat fancy-shaped center diamonds with
⅙-carat
round diamonds on either side. Each fancy-shaped center diamond is a
one-carat
for fair comparison.
Next is an example of some
unique side diamond shapes.
Each set of fancy side diamonds vary in carat weight
depending on their shape.
Certain fancy-shaped diamonds are cut differently… most of the weight can be carried in the bottom of the diamond and therefore difficult to see from the top-down. Other fancy-shaped diamonds are cut to "
face-up
" larger than what their weight may suggest. Each ring is shown with a
one-carat round diamond
in the center for proper comparison.
Ratio
Another reason that most three-stone engagement rings are customized is this factor right here…
the ratio!
That means the comparison in size of the center diamond to the side diamonds. Do you want all three diamonds to be similar in size? Half the size? Almost miniscule, more like accent diamonds?
Or somewhere in between?
Below are just a couple different examples using
only round diamonds
to show you what different three-stone engagement rings can look like depending on their ratio of center diamond size to side diamond size. The side diamonds are 1/6-carat each. 
Colored Gemstones
If you want to incorporate colored gemstones into your engagement ring, a three-stone design
might just
be the best option for you! You will be wearing your engagement ring almost every day
for the rest of your life
. There's not many other things
(if any)
in your life that will get that much wear. That means it needs to be the most structurally sound and durable creation possible. By selecting gemstones as accent stones, you get the durability and sparkle of a diamond center, but the added personality and customization of those gemstones on the side. The Bremer family prefers this option over choosing a colored gemstone for your center stone for durability's sake.
Pricing
If you search the internet for three-stone diamond engagement rings, you'll find an array of blogs telling you the design is more affordable AND more expensive.
Our opinion?
Any piece of jewelry that has three diamonds versus one tends to be a bit more expensive. That being said
(because the three-stone ring process is so customized)
, we are confident we can create the perfect ring design for your budget. Below are three different options of sample ring settings. A
"sample"
means that it's a live model of a ring meant to be customized, a representation of a possible design. A
"setting"
means a ring without the center diamond, the house that the diamond lives in, so the pricing you see on these rings is without the center diamond and without customizations
(which could decrease or increase the price depending on what you choose)
.
Upgrading
If you currently have a design DIFFERENT than a three-stone and want to change it up, our goldsmiths are experts at putting your original diamond in a new home! Design your perfect new ring and we will take the diamond safely out of your old ring and place it securely in your new one. Just like the ring below! Our #bremerbride inherited her grandmother's marquise-shaped diamond and just wasn't sure what to do with it. Our jewelry consultants and goldsmiths help handcraft a uniquely heirloom-inspired engagement ring that she can enojy forever!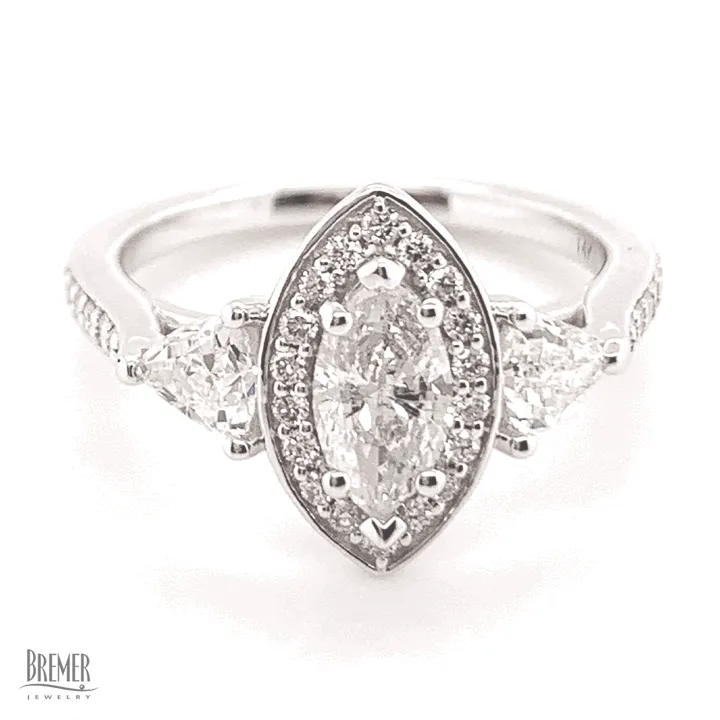 Or maybe you want a larger center diamond, but want to keep your original diamond for sentimental reasons (totally understand). What if we took your original diamond and matched it perfectly? You could turn those into a pair of diamond studs! OR we could take those two diamonds and use them as side stones in your new three-stone ring! Like we did for this jaw-dropping custom ring for one of our guests!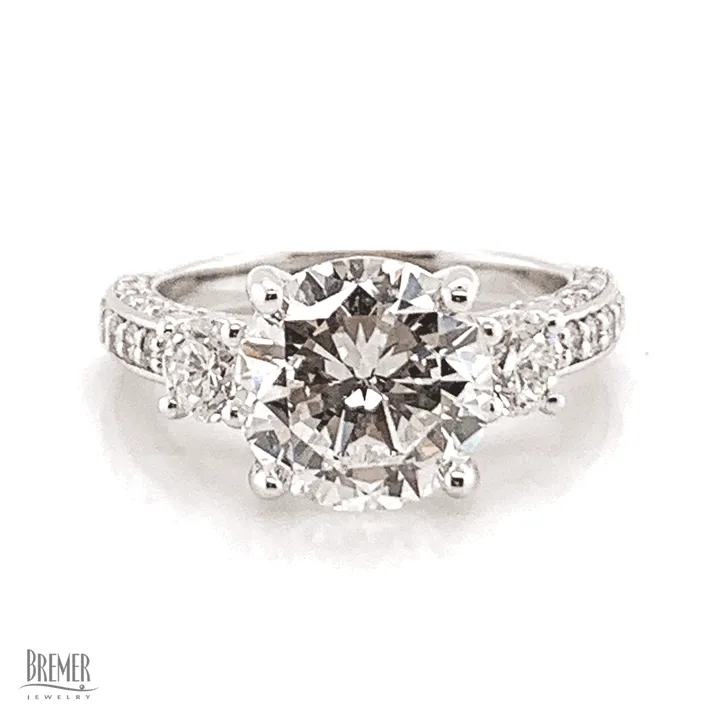 Another fun way to upgrade your existing three-stone ring? Use the existing three diamonds, match two more and create a stunning five-stone ring just like our friend Janice, owner of
Adore Bridal. This idea was PERFECT for her family. The new center diamond represents her marriage and the two diamonds on each side represent her four children. 


Janice's wedding set BEFORE



Janice's wedding set BEFORE, the day she dropped it off to be renewed into something magical!

Our gemologist hand-matched the two new diamonds for color and quality, while our goldsmiths crafted a beautiful new setting that maintained her original ring design. Then we took the metal from her old ring mounting and made a simple band to stack with her wedding set (that way she still had all the elements from her first ring still in her wedding set).


Janice's ring AFTER!



Janice's wedding set AFTER... We think she loves it!

So when it comes to three-stone diamond engagement rings, there may be more to consider than you might have thought! But that's why you have the family at Bremer Jewelry, a family that cares more about WHY you're here than what you spend. Take a scroll through our online selection of three-stone rings, but know there are LOTS more in our stores.

It's time to come ring shopping! Send us a text through the chat bubble in the bottom left corner of your screen or send us a message. See you soon!